Tak jsem zkoušel po několika letech nainstalovat grafický editor Google Picasa .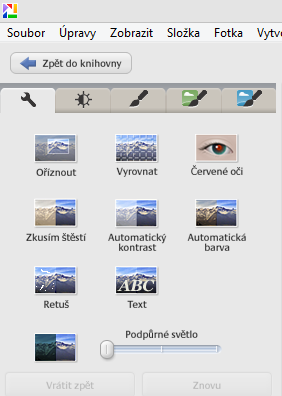 Zjistil jsem, že se z něj vytratilo šikovné rozšíření. Externí grafický editor. Fungovalo to online, daly se tam přidat pěkné fonty, šly dělat dobře rámečky. Bylo to pěkné. Nemohl jsem si ale vzpomenout na jméno… Po chvíli hledání jsem našel článek, jmenovalo se to PICNIK. 
Google tuto firmu koupil a program pak tuto funkci z Picasa vyřadil. Možná firmu pohřbil?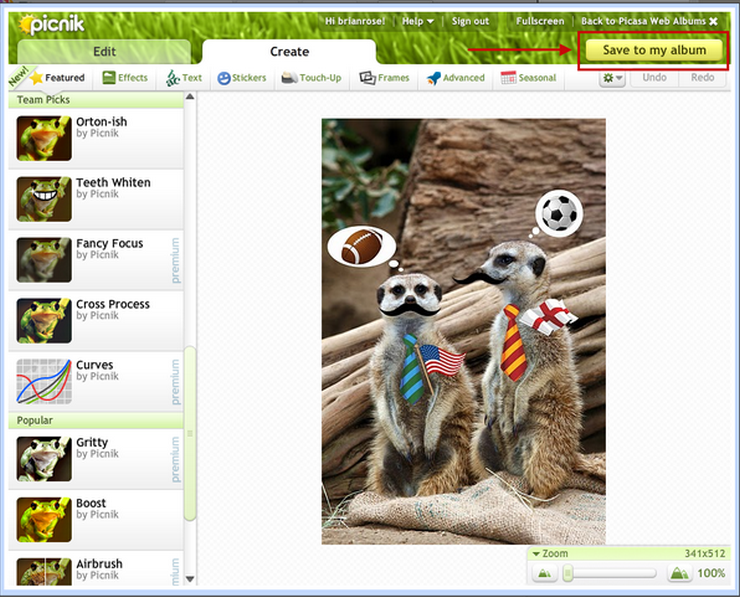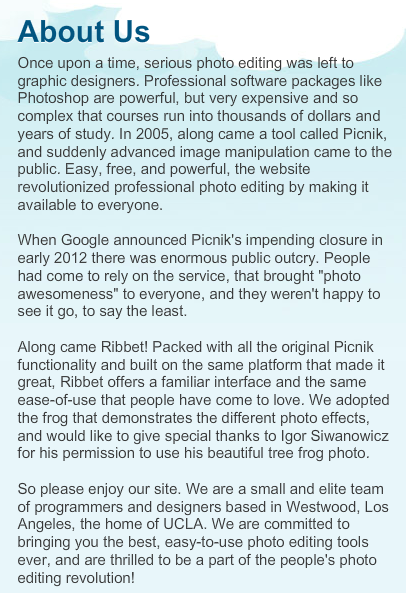 Aplikace ale přežila a změnila jméno. Jmenuje se Ribbet a vypadá stejně jako minulý Picnik.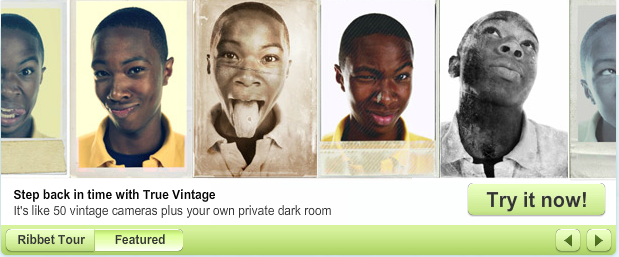 Je to opravdu jednoduchý prográmek, ale může se hodit. Existuje pro něj rozšíření pro Google Chrome.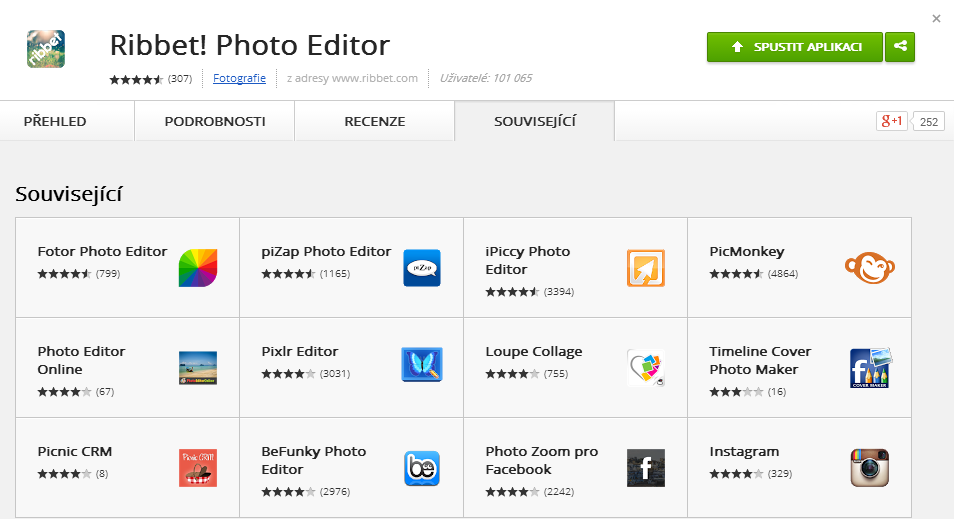 https://www.ribbet.com/ Takže vyzkoušejte, dokud je to zdarma.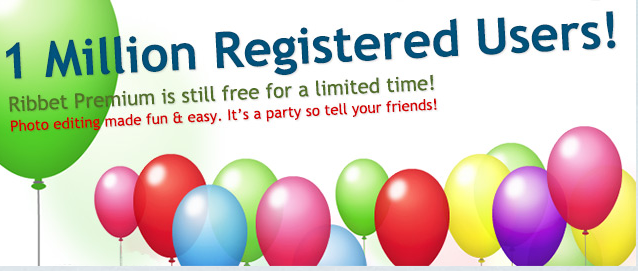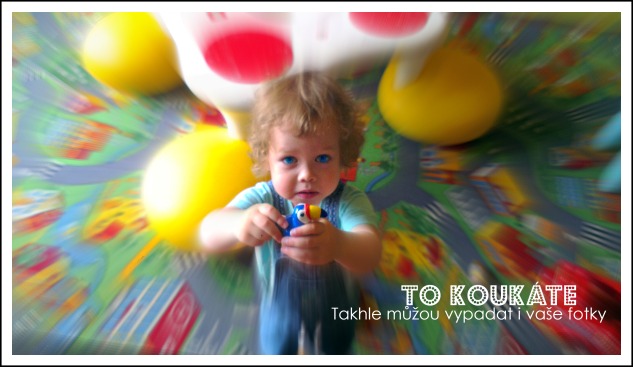 Další podobné programy. LunaPic 
https://www.lunapic.com/ 
FotoFlexer 
https://fotoflexer.com/ 

Aviary – Phoenix 
https://aviary.com/
Pixlr Online 
https://www.pixlr.com/ 

PicMonkey 
https://www.picmonkey.com/ 
PicMagick 
https://www.picmagick.com/ 

Makeup.Pho.to 
https://makeup.pho.to/ 


Adobe Photoshop Express 
https://www.photoshop.com/
https://www.devicedriven.com/products.html
https://www.drpic.com/ – wow, ads ads ads…
https://pixenate.com/ – not so pretty….
https://snipshot.com/ – nice callback agent
Ostatní Softwary, jsou tam i dema..
Commercial 

by Corel Software |

Windows

If creating great pictures is your passion, Corel PaintShop Pro is the photo-editing software for you. It combines ease of use with full professional power. Fix brightness, color and photo imperfections like…

 Photos & Graphics   graphics, photo-editing, image-editing, digital-painting, photo-retouching

---

Free 

by PicsArt |

Windows, Android + Tablet

PicsArt combines the best features of many photo applications it is one of best and most complete photo editors available for free in the market for Android devices. Picture editor – Tons of photo filters…

---

Freemium

 

by PicMonkey.com |

Web / Cloud

PicMonkey is a feature-rich, free online photo editor that works right in your browser; no downloads necessary. Touch-up tools like Teeth Whiten, Blemish Fix, Weight Loss. Effects like Orton, Cross Process…

 Photos & Graphics, Social   facebook, photo-editing, photo-effects, image-editing, flickr, photo-retouching

---

Free 

by Madhavan |

Windows

In addition to being totally portable, Fotografix has a ridiculously small footprint. Its a 370Kb download and about 700Kb once extracted. Despite its size, most of the features I rely on in Photoshop are…

---

Freemium

 

by ShinyCore |

Android + Tablet

Picsay is a award winning photo editor for Android. Spice up the pictures on your mobile phone and share them with your friends. Improve your photos with color corrections. Be creative with paint, word…

 Photos & Graphics, Social   photo-effects, photo-sharing, photo-editing, share-photos, color-correction

---

Free Photo Editing Software for PC PixBuilder Studio is a free image editing software program for digital photo editing, images processing, and resizing. For digital photo editing, you can use its many…

 Photos & Graphics   image-editing, color-correction, layers, graphical-editor

---

Free 

by Zhenzhou Wang |

Windows

PaintStar is a versatile digital image processing software suitable for such tasks as retouching of photographs, composing and authoring images, image morphing, screen capture, and displaying image thumbnail…

 Photos & Graphics   screen-capture, image-editing, photo-editing, image-morphing, paint-star

---

Free 

by Arbor Labs |

Web / Cloud

FotoFlexer is the most powerful online photo editor in existence. It can remove blemishes, change skin/hair color, morph photos and more! 100% free.

 Photos & Graphics   image-editing, photo-effects, photo-editing, image-processing, flickr, photo-processing

---

Freemium

 

by ribbet |

Web / Cloud

Once upon a time, serious photo editing was left to graphic designers. Professional software packages like Photoshop are powerful, but very expensive and so complex that courses run into thousands of dollars…

 Photos & Graphics   photo-editing, image-editing, photo-effects, resize-image, collage-maker, rotate-image

---

Free*

 

by iPiccy, Inc. |

Web / Cloud

iPiccy photo editor makes your photos beautiful with easy and powerful editing tools. Edit pictures, apply photo effects add text and paint for free!

 Photos & Graphics   photo-editing

---

Free 

by Andre Weier |

Mac, Windows, Linux

Polarfox lets you beautify, save and multi post images to Flickr, Facebook, Picasa, Blogger, Evernote, Twitpic, Box and Posterous. Image Editing Add beautiful filters to your images. Edit images…

 Photos & Graphics, Social   image-editing, photo-sharing, photo-editing, image-sharing, image-manipulation

---

Free 

by Thomas Winischhofer |

Web / Cloud

Easy-to-use online photo editor, directly supports Facebook, MySpace, Twitter, flickr and many more. No browser plugins required.

 Photos & Graphics   image-editing, photos, photo-editing, images, png, jpg, gif, mirror, online-image-editor

---

Free 

by NCH Software |

Windows

PhotoPad image editing software is a free digital photo editor for Windows. – Easily edit family photos and other images – Load multiple image formats – Crop, rotate, resize and flip digital photos …

 Photos & Graphics   photo-editing, image-editing

---

Commercial 

by STOIK Imaging |

Windows

Very powerfull image processing, editing, and retouching. Fully supported 48 bit color mode (in layers and all filters), automatic enhancement (Red Eye removal, Scratch and Dust removal, and more with one…

 Photos & Graphics   photo-editing, image-editing, photoshop, bitmap

---

Free 

by Pierre-e GOUGELET |

Web / Cloud

web 2.0 image tool for converting images online and apply effects like crop, resize, filters … have a try it's free !

 Photos & Graphics   image-editing, photo-effects, image-converter, online-editor

---

Photo! Editor is powerful multifunctional software offering a complete set of image editing tools. It contains anything a digital camera owner might need to correct or enhance their photos. You will enjoy the…

 Photos & Graphics   photo-effects, photos, photo-editing, photos-application

---

Freemium

 

by VicMan Imaging Software |

iPhone, iPad, Android, Web / Cloud

Improve and play with your digital pictures at Pho.to site with easy yet powerful editing tools and services. Enhance your pictures, have fun with your photos online, retouch portraits and share your photos…

---

Free 

|

Mac, Windows, Picasa, Chrome, Facebook, Firefox, Dropbox, Linux, Web / Cloud

+5 more

LunaPic is an online photo editor that allows you to edit, crop, rotate and resize images, add effects to your photos, create slideshows, animation and collagesand convert video to gifs.

 Photos & Graphics   photo-effects, photo-editing, share-photos, image-resize, slideshow-creator, share-images

---

Free 

by CommSource Tech |

iPhone, iPad, Web / Cloud

Whether a professional or an amateur, from snap to share, PhotoCat is an all-in-one app for editing, collage making, photo retouching, makeovers and more to make your photos even more stunning. Say good-bye to…

 Photos & Graphics   photography, photo-editing, image-editing, photo-effects, photos, collage-maker

---

Commercial 

by Mobile Pond |

iPhone, iPad

With Photogene you can easily browse, improve and export multiple photos. ?It's a great companion to the camera connection kit. Photogene can open up for editing very large files and supports an export…

---

Commercial 

by ACD Systems International Inc. |

Windows

Make the most of your photos with ACDSee Photo Editor 2008! It has all the tools, inspiration and clear instruction you need to turn your digital photos into truly captivating keepsakes. Create personalized…

 Photos & Graphics   image-editing, photo-editing, scrapbook

---

Commercial 

by Neatberry |

Mac

PhotoStyler is the easiest way to style your digital photos with your Mac. This simple, fast and accurate native solution combines the powers of Apple's core technologies with the flexibility and efficiency of…

---

Freemium

 

by CodedColor |

Windows

CodedColor PhotoStudio by 1STEIN is a Windows photo viewer and editor to organize, edit, resize, reformat, correct, compare, sort, watermark, annotate and print digital images, and to edit EXIF and IPTC data…

---

Open Source 

by Fu Li |

Windows

PhoXo is small and free image editing application. It's tiny, fast, easy to use, can be treated as a mini PhotoShop. Its features include layers, undo, over 50 special effects, batch processing, and a wide…

---

Pixenate is the photo editor of choice for photo printing and photo sharing businesses.

---

Free 

by Internet Photo Project |

Web / Cloud

Free Online Photo Editor with fun effects and picture enhancements.

---

Commercial 

by Creanncy |

iPad

Image Edit PRO for iPad 2 is powerful photo editor with native iOS interface and both (landscape and portrait) interface orientations support! This app have fast image processing engine for photo…

---

Thumba is an online service for editing images, full of great features. You can make simple adjustments to your pictures or even apply great effects. All this in a practical way and directly from your browser.

---

Free 

by mugtug |

Web / Cloud

Darkroom is an online photo editing application.

---

Photobie – free photo editor, digital scrapbooking software Photobie is image editing software that combines features amateurs can use with advanced tools professionals will appreciate. Photobie is free for…

---

Commercial 

by Eusoftware Co. Ltd. |

Windows

Photopainter is both a natural-media painting software and an image processing system at the same time. You can not only use it to retouch your photo, but also turn your photos into natural style…

---

Commercial 

by Helicon Soft Ltd. |

Windows

Helicon Filter is a complete photo editing solution for the digital photographer. Its easy and intuitive interface, live preview feature, and contextual help ensure an easy start in photo editing for…

---

Freemium

 

by CursorArts Company |

Windows

– ImageForge Standard Freeware Edition: ImageForge provides you with a set of powerful tools for painting and editing images, photos or other graphics.Create and edit images, acquire pictures from your…

---

Free 

by The Power Of Software company ltd. |

Windows

Photo Pos Pro Photo Editor is a free photo editor offers users a wide variety of possibilities in the fields of Image Enhancing and Image Editing and in the field of Computer Graphics Design. Using the editor…

---

Freemium

 

by AMS Software |

Windows

Home Photo Studio is powerful and easy-to-use photo editing software offering a complete set of image manipulation tools. Thanks to a convenient interface and a detailed help system, the software is simple to…

---

Free 

|

iPhone, Firefox, Web / Cloud

Picture2Life allows you to edit, collage, animate and share your pictures online.

---

Free 

by David Levinsky |

Web / Cloud

The Photo Raster is online photo editor with advanced features for photo editing and painting. The Photo Raster is powered by WebGL technology which provides performance never seen before in online…